UHS - TRL Art Champs
Jeff Feagins
Wednesday, April 14, 2021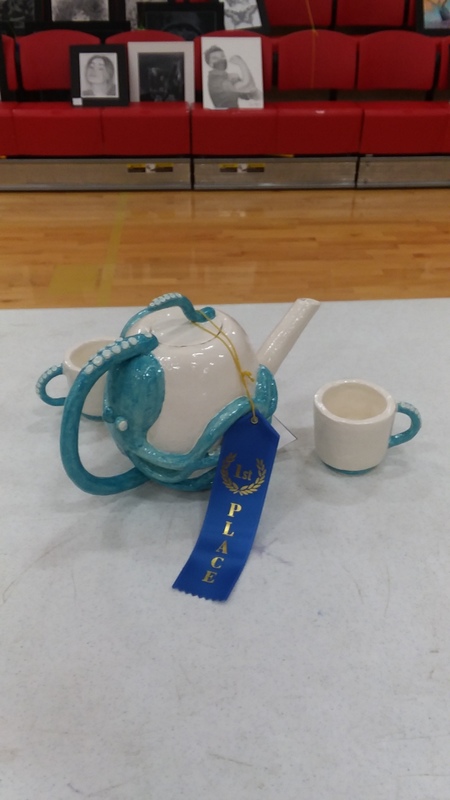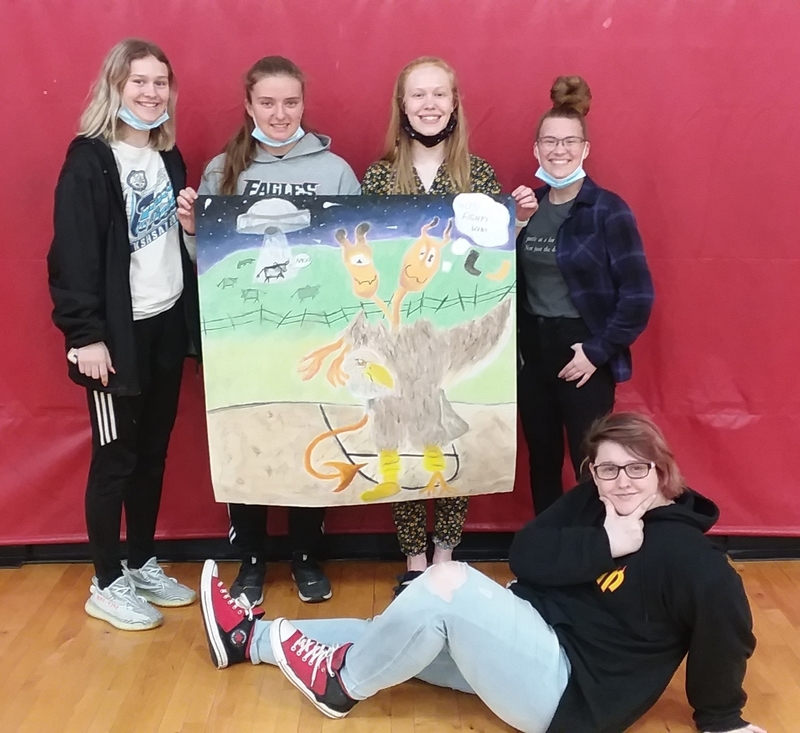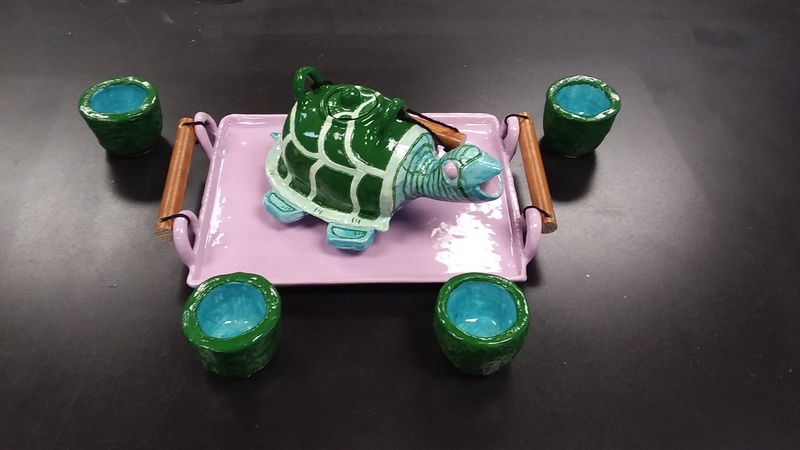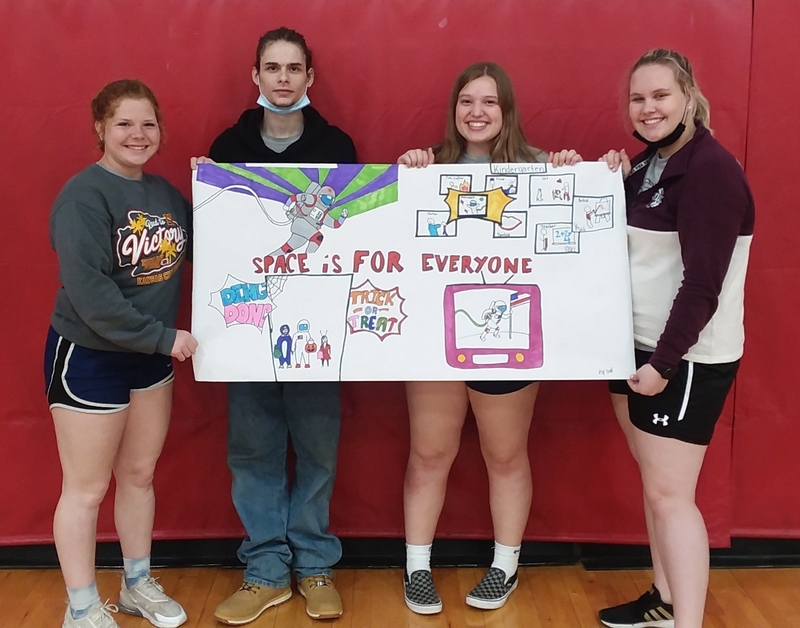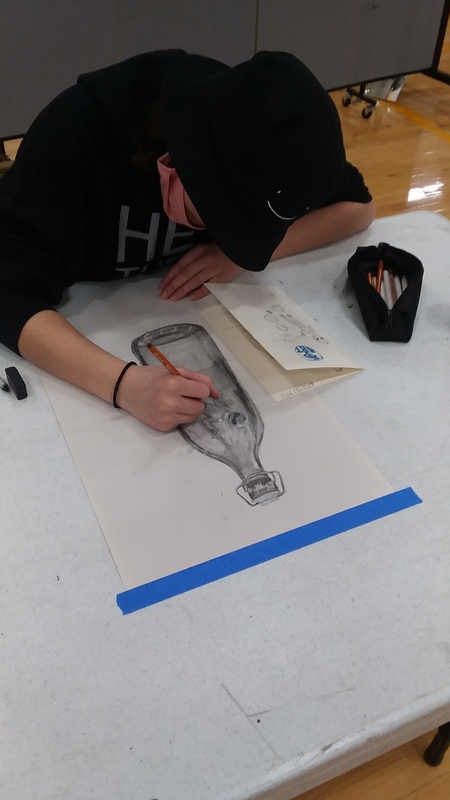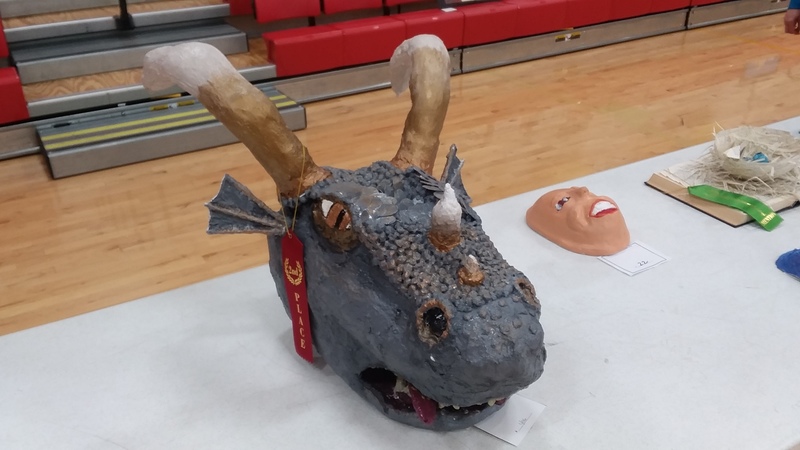 Both Kaydra and Karleigh Are Awarded Best of Show as UHS Wins 7th Straight TRL
On Wednesday, April 7th Jayhawk Linn was the site of this year's Three Rivers League Art Show. The show consisted not only of a juried exhibit, but also of several fun contests which were geared for both individuals and groups. There was a group sidewalk chalk, quote banner, and an art relay. On the individual side of things artists were given a bottle to realistically draw and then create outer space inside the bottle. Besides competitions, there were some amazing demonstrations including wheel throwing, Raku firing, and chainsaw art.
Juniors Kaydra Woods, Alie Fuhrman, and Mason O'Brien along with senior Austyn Beerbower combined their skills in the Quote Banner competition in which they interpreted the quote "Space is for Everyone" using the art style of Pop Art. Their combined efforts helped the team win first place.
Uniontown also placed in almost every category in the juried show. Kaydra, Art 3 and Graphic Design 2, earned an Honorable Mention in Painting with her Kio Fish while Rhian Gorman, senior in Art 4/5 and Graphic Design 3, won the Watercolor section and fellow senior, Stephen Robinson, who is in Art 2 took second. Sammie Hampton captured the Colored Pencil category and second place went to Laney Covey. Sammie is a senior in Art 4/5 and Laney is enrolled in both Graphic Design and Art 3. Kera Lawrence who is a junior and takes Art 3 received 2nd on her dragon head sculpture. Rhian earned another ribbon, 3rd place, in Printmaking and senior Libby Schaaf placed 1st. In Graphic Design and Illustration, both Laney and senior Cade Goodridge were awarded ribbons. For her comic book, Laney was second and getting third was Cade for his horror movie poster. Sammie was first in Hand-built Ceramics with her octopus teapot and cups. Taking first and second in the Scratch Board category was Kaydra with her lion and Laney with her cow. UHS swept the Charcoal division with Kaydra taking first, Sammie second, third to Alie, and Austyn was awarded Honorable Mention.
The Eagles secured both Best of Shows. Senior Karleigh Schoenberger took this honor over all the three-dimensional artworks with her ceramic tea set that she hand built. The set not only included a teapot, but also 4 cups along with a serving tray. Kaydra Woods won the two-dimensional Best of Show with her charcoal drawing. Overall Kaydra earned a ribbon on all five of her artworks.
The high number of wins in the juried competition, both Best of Shows as well as the first place by the Quote Banner team catapulted Uniontown to be crowned TRL Overall Champion again for the 7th straight time. This was the seventh year for the overall school award which started back in 2014. Unfortunately, we were not able to have the TRL competition last spring. The traveling plaque will continue to be displayed outside Uniontown High School's Art room door until next year's TRL art show.
Attached is a picture of the Quote Banner Team:
Alie Fuhrman, Austyn Beerbower, Kaydra Woods, and Mason O'Brien