Congratulations to these four Uniontown FFA Members! They received their Kansas FFA State Degree this morning at the sixth convention session . The state degree is the highest honor our state association can bestow upon it's members. There are several requirements to earn this degree, but in short it's awarded to dedicated FFA members who have a quality SAE program. From left to right: Joaquin Marin, Byron Fry, Adysin McCarley and Brycen Stewart.

We are proud to announce that our Novice Parliamentary Procedure team finished in 3rd Place at the Kansas FFA State Novice Parliamentary Procedure LDE! Out of over 215 FFA Chapters across the state, this team came in 3rd! Team members from left to right: Timothy Ames, Klara Stock, Jaci Marlow, Newt Reed, Lane Stewart and Colter Powell.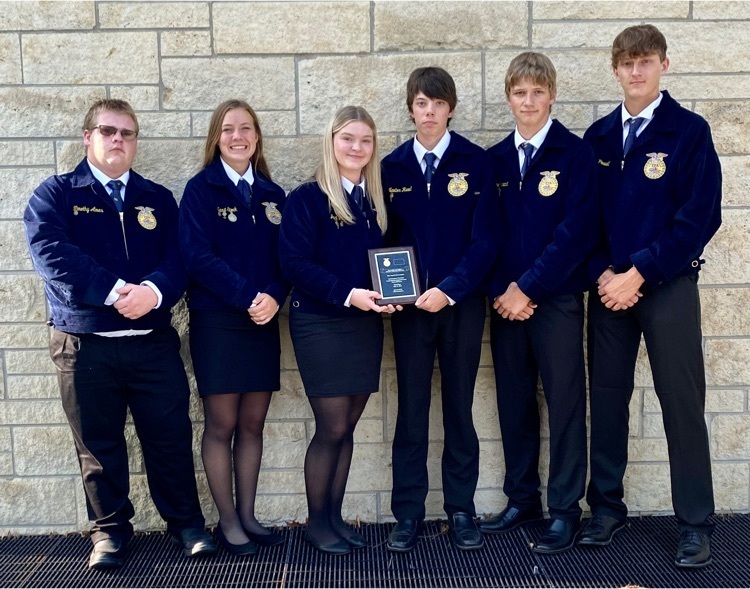 Good luck to the Uniontown FFA Freshman Parliamentary Procedure Team as they compete at the state contest today on the campus of Kansas State University. Only 2 teams from each of the 7 Kansas districts qualified for the competition. Results will be announced tonight at the opening session. Pictured from left to right: Jaci Marlow, Colter Powell, Timothy Ames, Lane Stewart, Newt Reed, Klara Stock.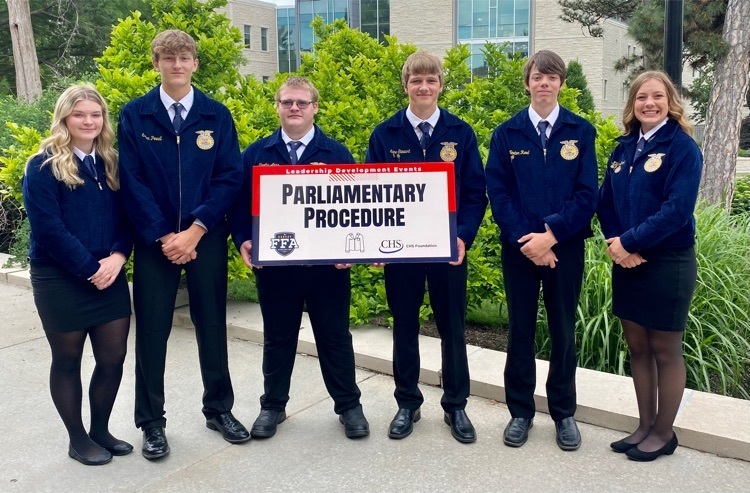 UHS Yearbook has copies of older yearbooks for sale at a discounted price. Please help us clear these out!  PRICE LIST per book:  2020 thru 2022 -- $30 2010 thru 2019 -- $25 2000 thru 2009 -- $20 older than 2000 --$15 Quantities available for each book will vary (see photos). Must come to the high school to purchase and pick up your books (cash or check). Please text Mrs Sutterby with your inquiries and to arrange a pickup time: 620-754-3537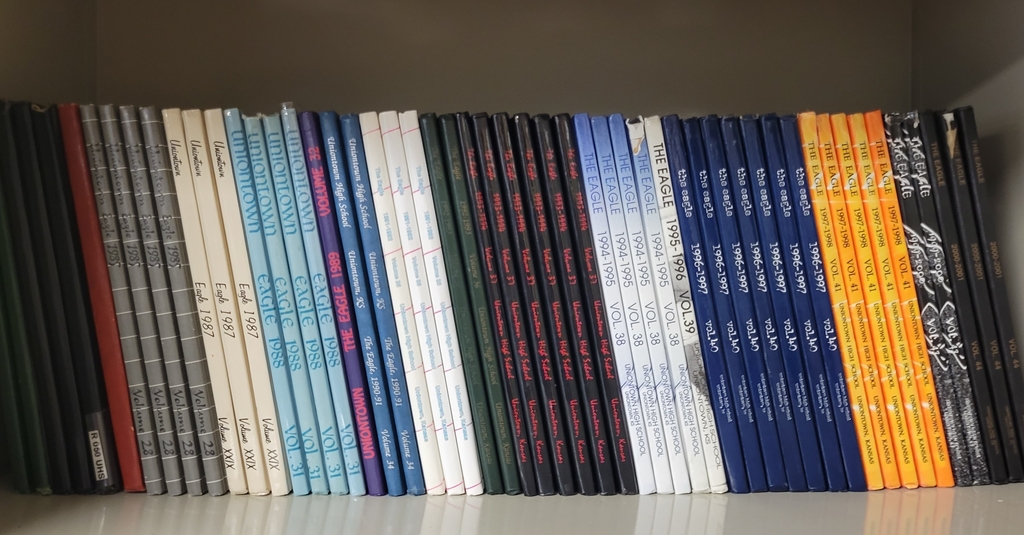 UHS State Track Update: Jett Harvey 5th in the 110 HH 16.06, A Personal Record 4th in the 300 IH 41.17 Another PR. Emily Steinbruck Had a Very Respectful LJ 15'11 1/2 " Caleb Davis Tossed the Javelin 139'10" All three of these Athletes had a Great Track Season. Eagle Pride

The fitness center hours have been adjusted for the summer to be 5:00 am to 11:30 pm daily. Enjoy!

Jr/Sr High School 22-23 Spring Honor Roll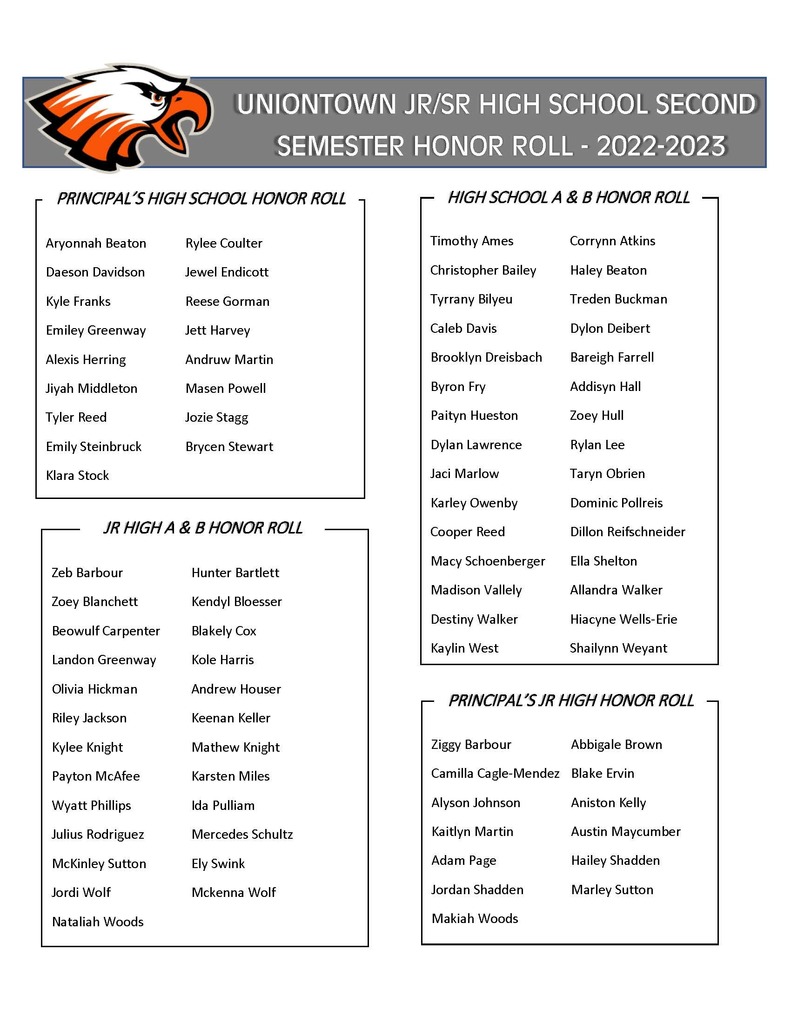 School may be out, but the work continues for six freshman that are apart of the state qualifying Novice Parliamentary Procedure team! The team qualified for the state contest back in November and will compete at the Kansas FFA State contest during state convention in Manhattan, Kansas on May 31st. Only the top 2 teams from each of the 7 districts in Kansas are invited to compete. Uniontown is part is the Southeast FFA District featuring 27 schools. Team members are: Chairman- Newt Reed Lane Stewart Klara Stock Timothy Ames Jaci Marlow Colter Powell

Congrats & Good Luck Jett Harvey, Caleb Davis, & Emily Steinbruck ; Our State Track Qualifiers We are extremely proud of these three athletes and look forward to them representing UHS at the State Track Meet next week....they have worked hard for this well deserved opportunity.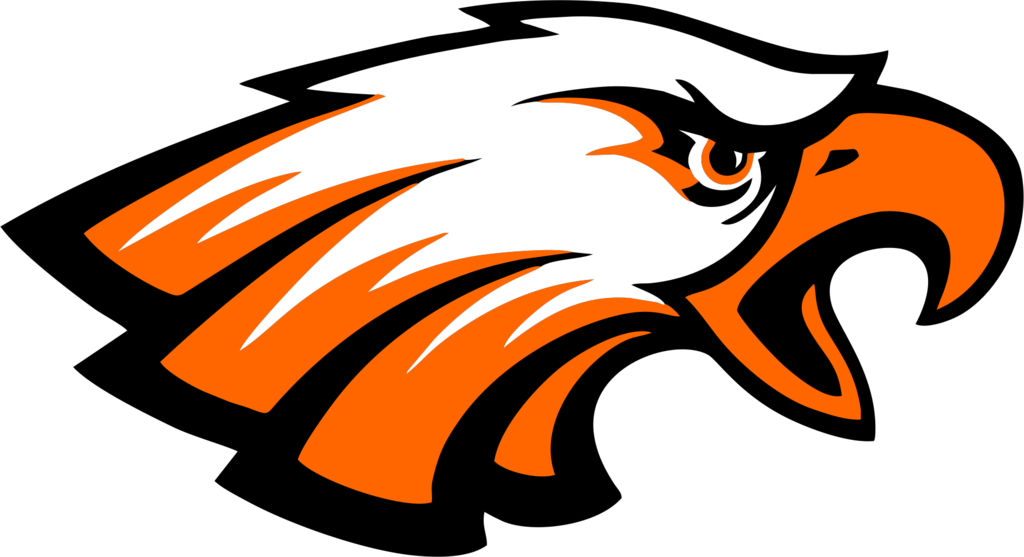 UHS BB Boys ended their Season with a Regional Runner up Plaque in Hand. Thank You Players, Coaches,& Fans for a very Successful Season. We ended the season with 14 wins & a Bright Future ahead. UHS Has much to be Proud of with this fine Group of Young Men & Coaches. Class Act !
We couldn't let Summer Break get here without showing off a few more shop projects. Matt Poyner with his walnut tv console as well as Ella Shelton and Jiyah Middleton with their projects. Our students have made some amazing projects and a lot went before we got a picture.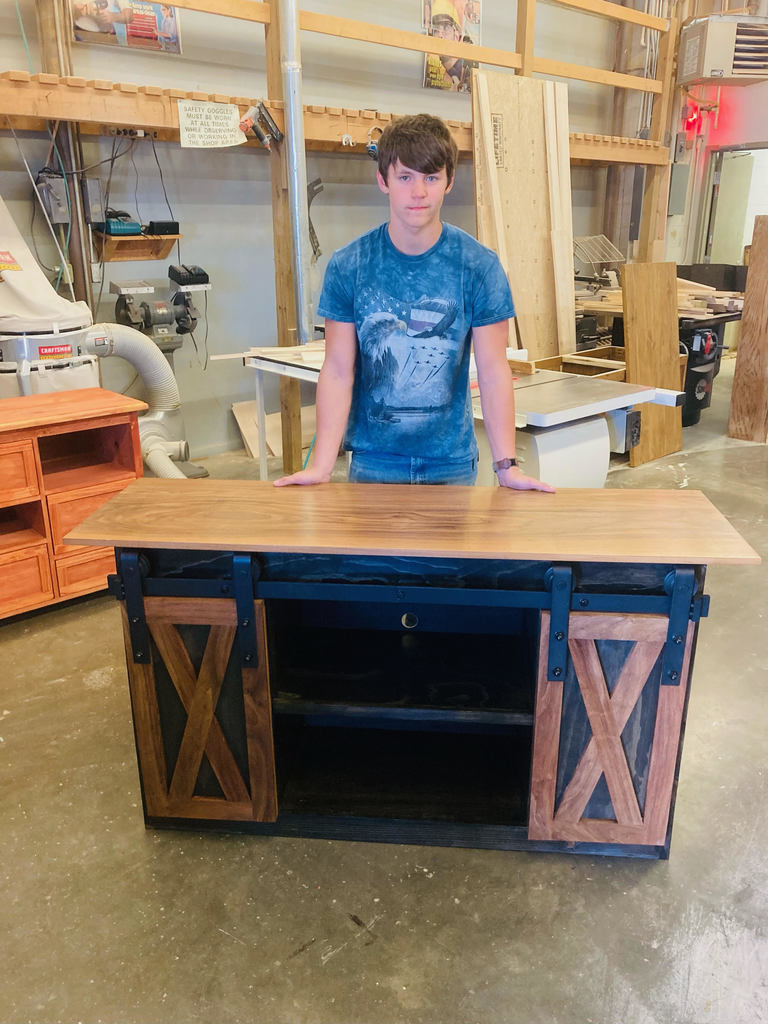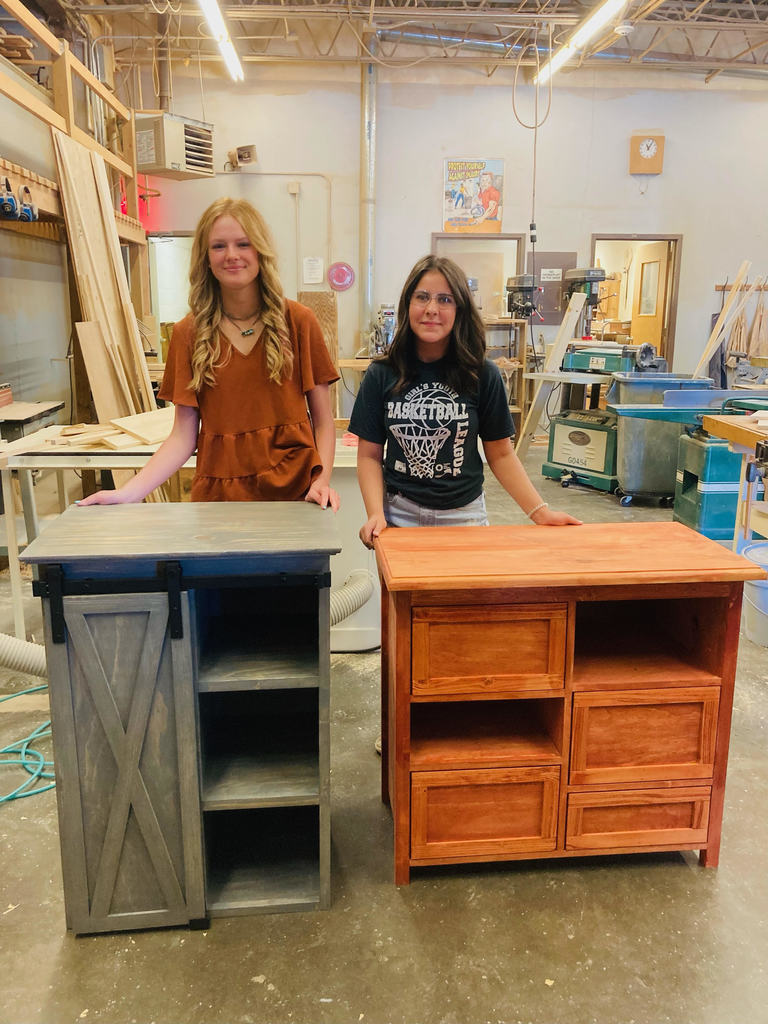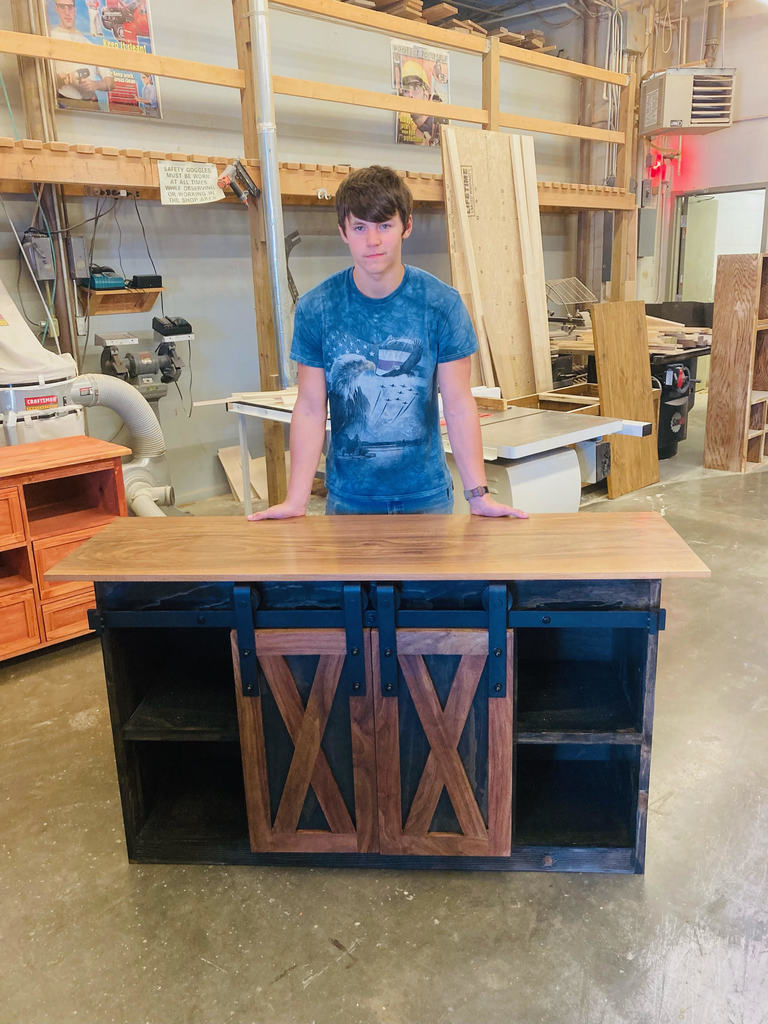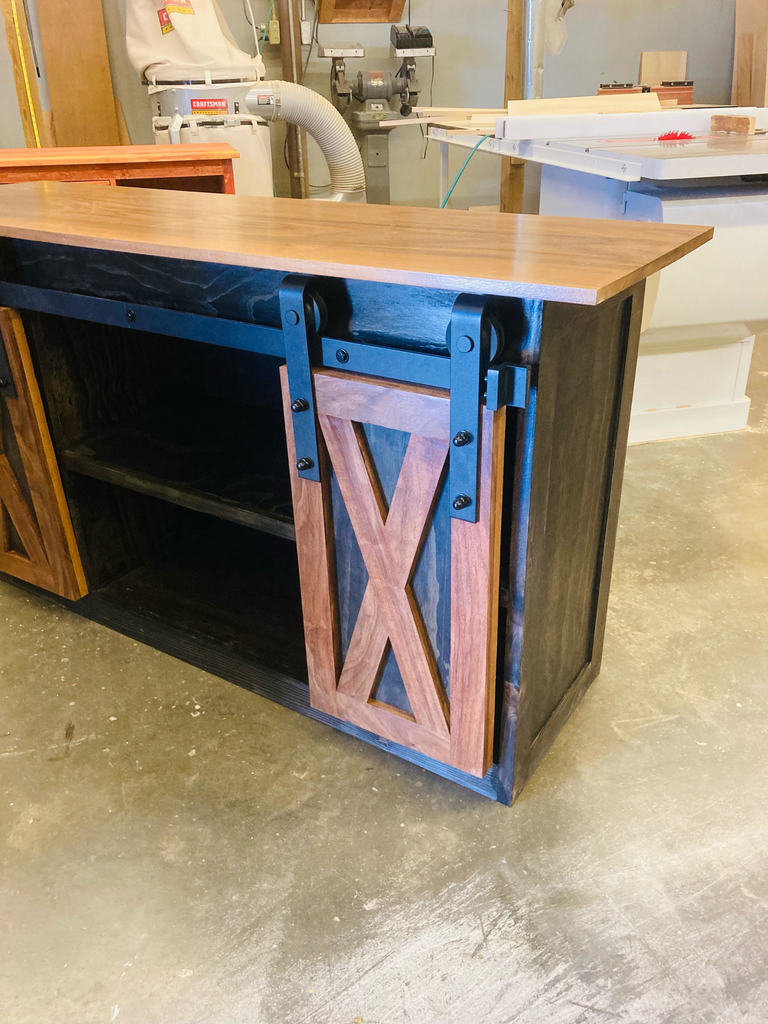 Our JH Woodworkers have been busy making wooden and plastic lures as their final project. They made 2 crank-baits and top water lures. They spent the last week fishing with them and the proof is in the pictures! What an awesome experience to catch a fish on your handmade lures!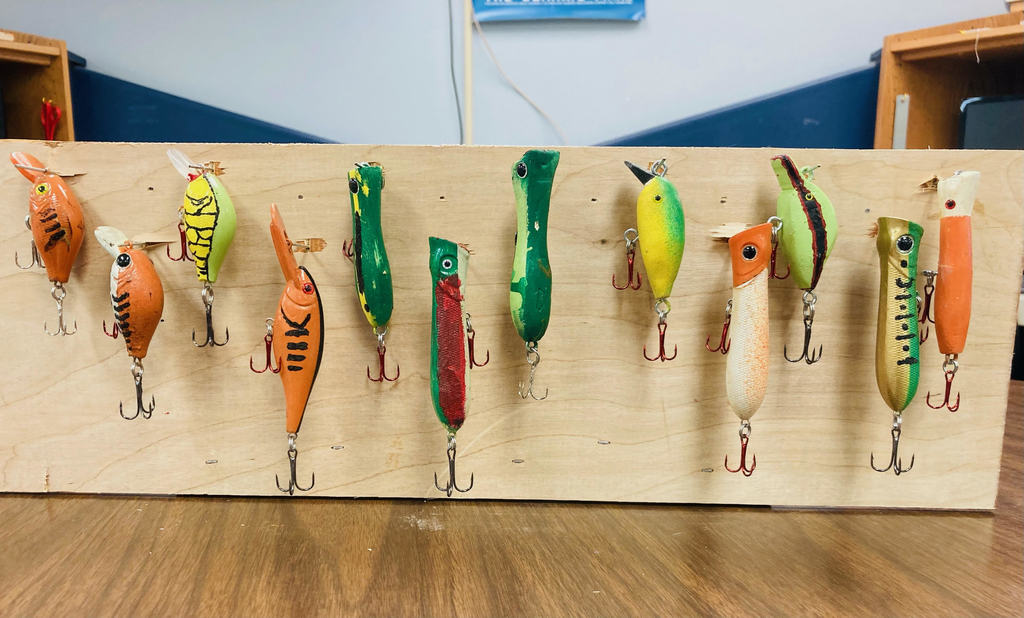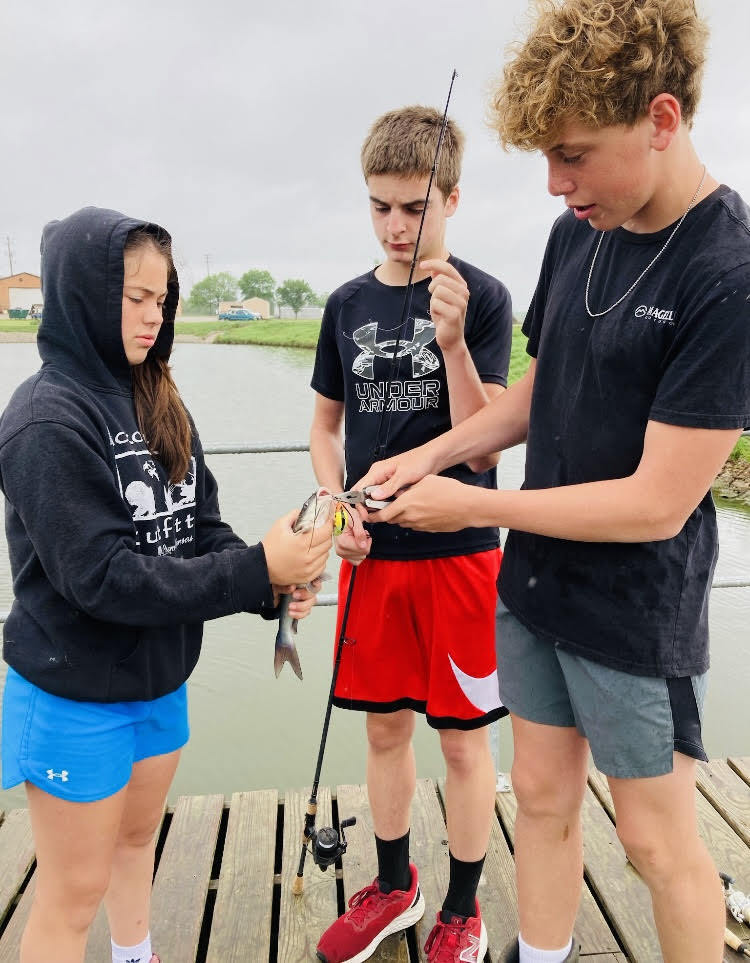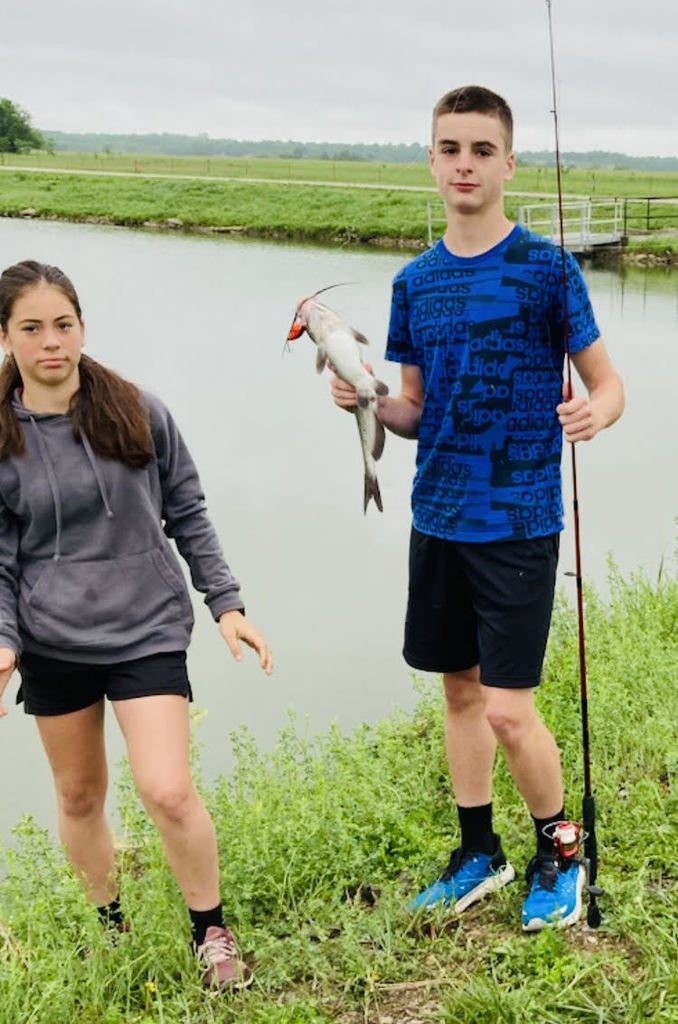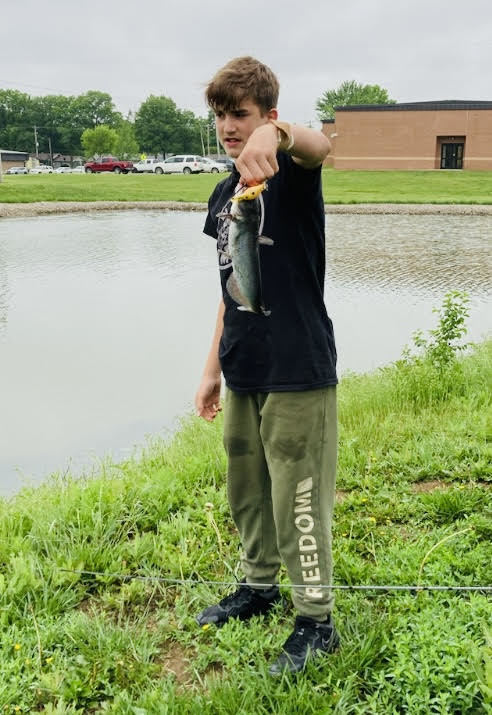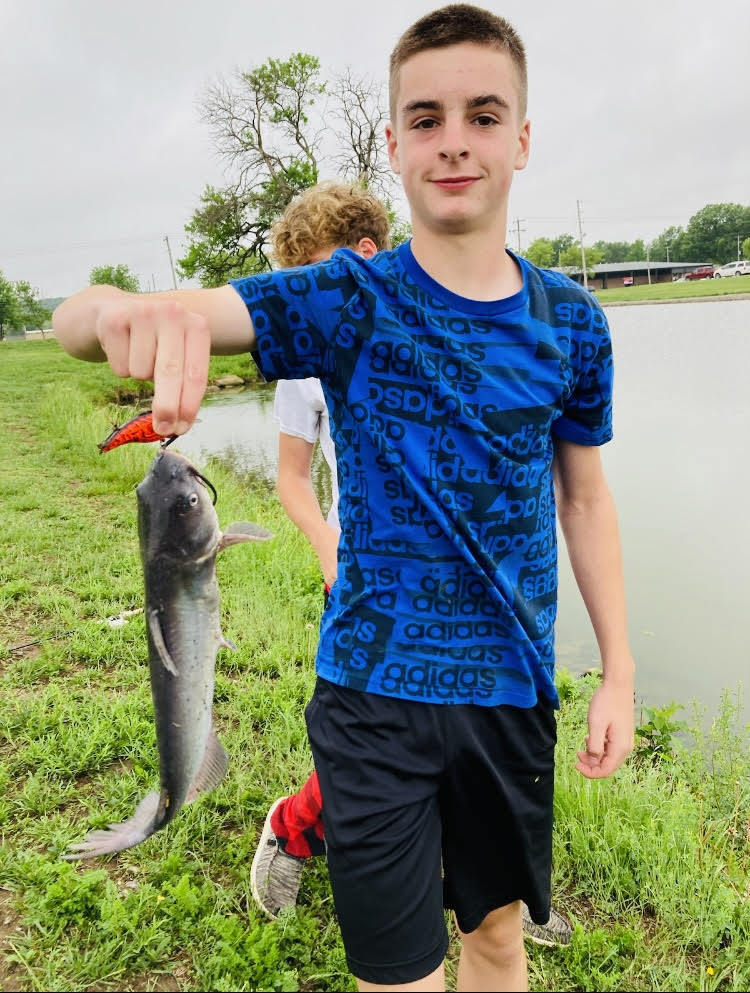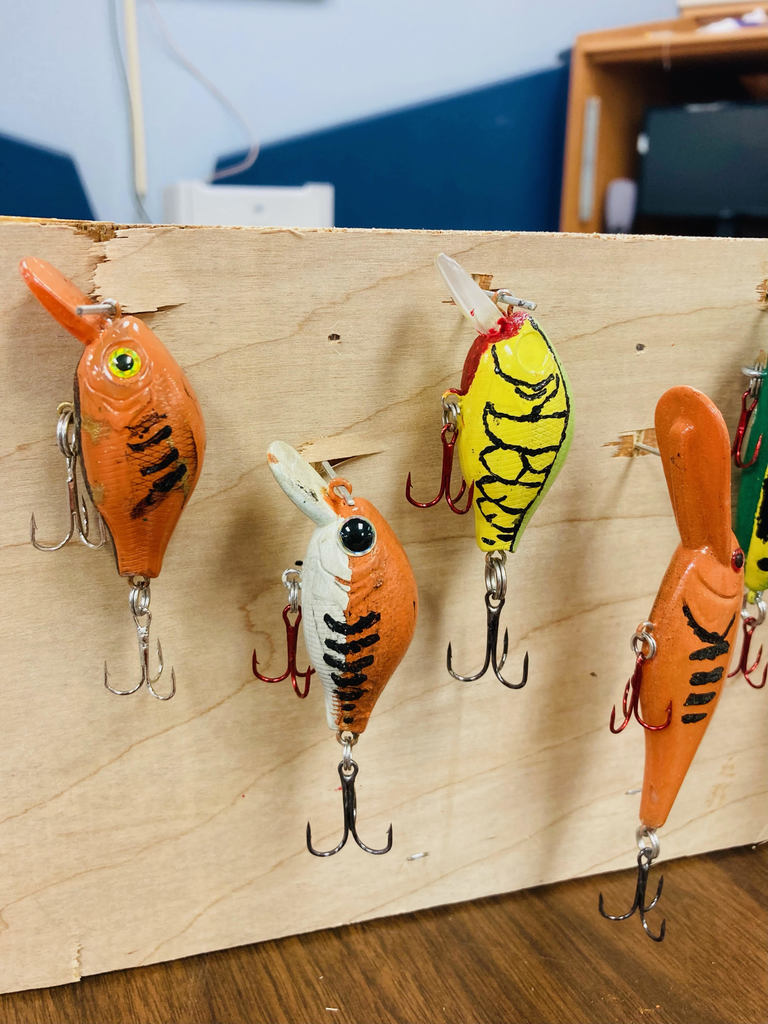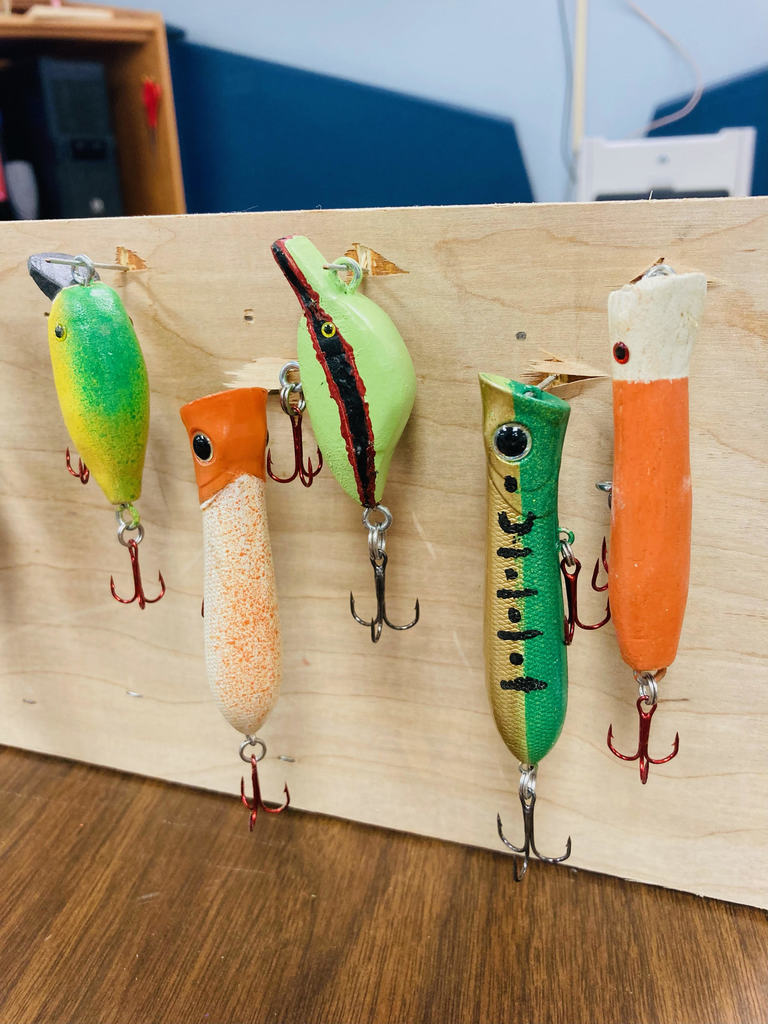 HUGE shoutout to UHS SB coaches & players. They ended the season 17-5. We loved watching these ladies play all season. The efforts of this very well-coached team were very appreciated. A bright future awaits. Their 1 Senior, Emily Greenway, will be missed !!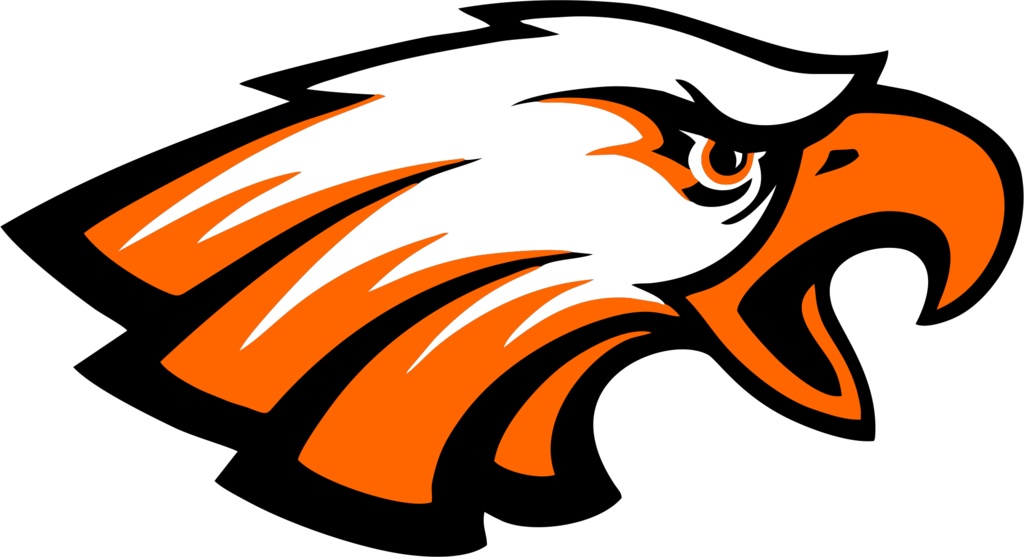 Hey Eagle Baseball Fans. Our Boys will be Playing a Regional Semi-final game vs NE Arma today At OSWEGO. Game Time Should be Around 3:30 . The Team would Really Appreciate your Presence & Support at this event. We hope to see you There !! Go Eagles !!!!!!!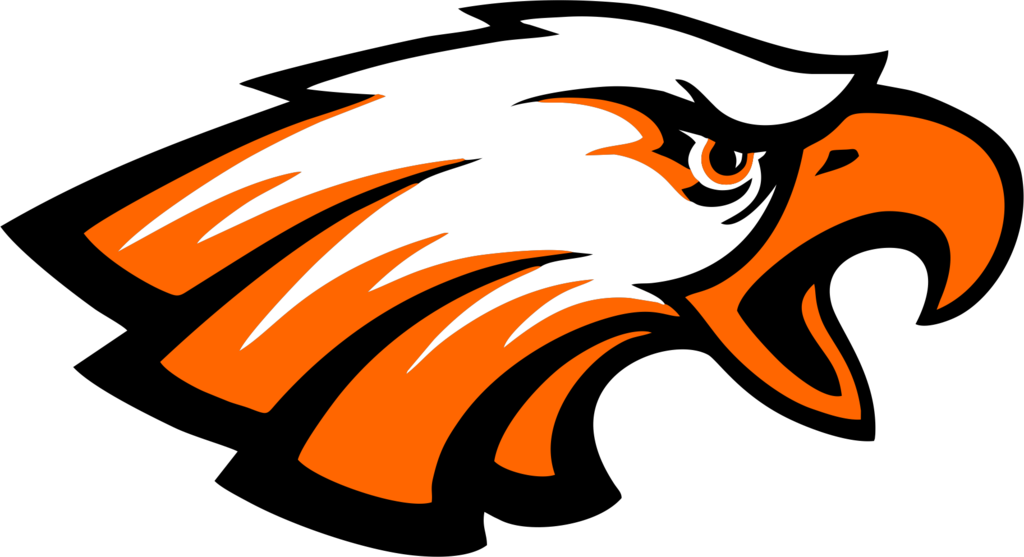 Junior High Ag students Kole Harris and Hunter Bartlett proudly pose with the shop project they just finished up together. Harris needed a "box" to set his families' small animal digital scales in, so they fabricated this unit which should work well. Both Harris and Bartlett are 8th graders and have been in the Junior High Ag class for the last two years.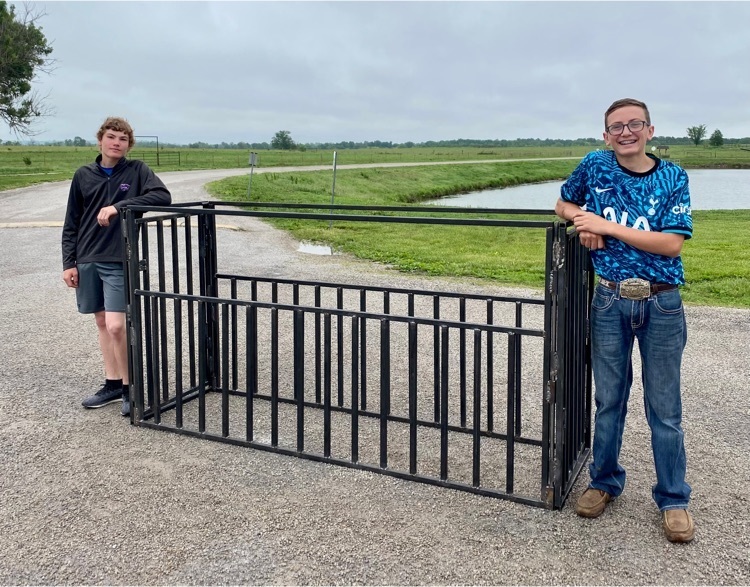 Jr High Awards will be Tuesday 5/16 at 2:00 in the UHS Gym. After the 8th grade promotion, we will have a dessert/punch celebration for 8th graders only.

High School Awards Assembly will be on 5/15 from 2:00-2:35 in the UHS Gym.

USD235 staff hosted a cake and punch reception today in honor of 5 amazing staff members who are retiring. Mrs. Jean Cook, Mrs. Rhonda Allen, Mrs. Betty Dennis, Mrs. Jeanne Camac, and Mrs. Bonnie Rathbun dedicated a combined 146 years of their careers to Uniontown students. Congrats on your retirement, ladies, and thank you!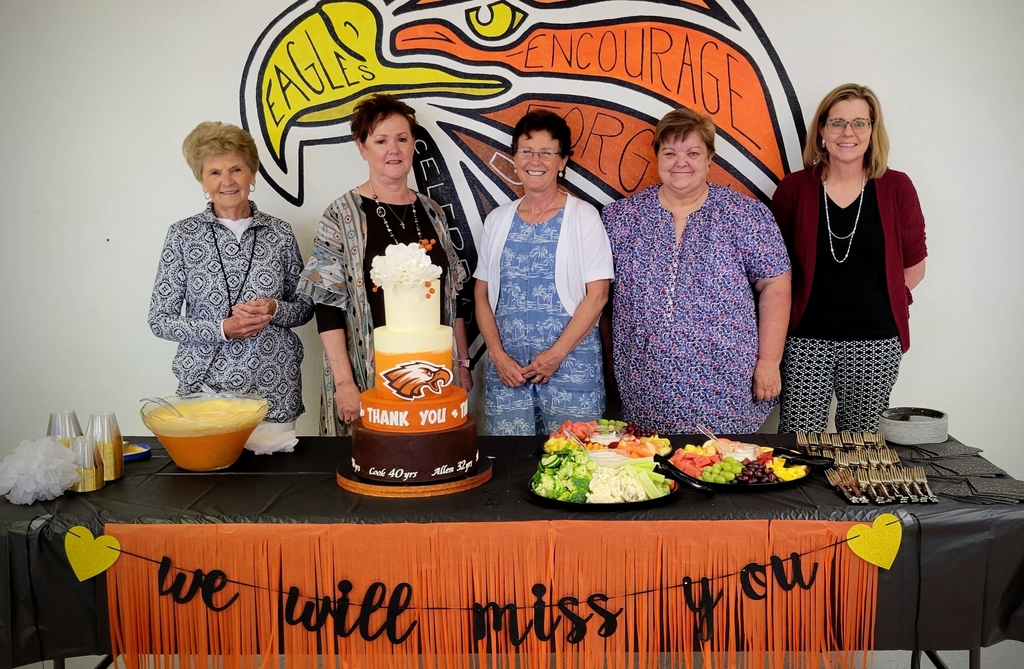 UHS Track competed at the Humboldt Invitational Thursday, May 4...results are as follows: Next Thursday will be the TRL League Track Meet at Pleasanton. Jackie Humboldt Invitational 5/4/23 Emily Steinbruck 100M 7th 14.66 200M 7th 30.19 LJ 3rd 15'`10 Zoey Hull 1600M 7th 6:59.8 3200m 6th 16:41 Seth Shadden 1600M 5:42.6 7th 3200M 5th 12:56 Jett Harvey 110HH 2nd 17.45 300IH 1st 42.91 Caleb Davis 2nd Jav 137'8 Disc 103'3 Andruw Martin Jav 57'6 Shot 27'9 Disc 82'7